Did your mum ever tell you not go get in a car with strangers? Well, I politely disagree. Not that I do this on a regular basis, but boy, this year seems to be one to meet new people, meet amazing people and get a new sense of myself.
I'll skip the first getting in a car with strangers experience, on my way back to Bocas del Toro, Panama, because the car was a taxi, and even though the strangers were buddies with the driver it hardly counts against what mum said.
Part I
By now you have probably read TJ's story about how the lovely US immigration and customs people made me feel like an outcast yet again, and the means necessary for me to make it to the US. So! Here I am, stranded on Bimini all by my lonely self. TJ had left immediately after checking in, and I had to find a way to get to Fort Lauderdale. The flights are ridiculously expensive – about 400 $ for a 25 minute flight. I decided to take the ferry instead. If you ever want to see what a ferry SHOULD look like, google Bimini Superfast. I'd call that a luxury cruise ship, but that's just me. I got to the ferry terminal around 10 am. Boarding was at 1 pm, but the ferry didn't leave until 5 pm. And, of course, it didn't go to Lauderdale but Miami instead. What would life be without a little adventure…
I killed a few hours, then went and waited in line to get on the ship. Next to me sat a girl wearing a West Marine hat. We started a conversation. She and her husband (Agatha and Miguel) have a charter business in Miami. They were delightful, and we decided to hang out. They bought me lunch and we spent all day together. As we were approaching Miami they told me they'd wait for me after going through customs and immigration, then take me to a rental car place so I could get to Fort Lauderdale. Now it was my turn yet again to deal with the lovely immigration officers. The guy in front of me got the hard eye, and I saw trouble looming on the horizon.
Usually I have a pretty good tactic: I look at the officers available, and try to pick the most average looking middle-aged one. Then I go up, smile very nicely and am extremely polite. That's a winner. Not that day. The guy started asking me all kinds of questions, and I saw the whole thing going downhill, and fast. He asked me where I had been since I left the US in October and didn't like my answer: Mexico, Costa Rica, Panama. Apparently that was somehow suspicious. (People who travel – bah!) I was on the verge of desperation when he asked me why I traveled so much. I answered: because I live on a sailboat! Immediately his behavior did a 180. He smiled at me and said: And you are married to a fisherman!
In my head I'm going: what the HELL is going on here???? I answered yes, and wanted to know how he knew that. Well, I appeared that TJ, in his desperate attempt to get someone on the phone who could tell him exactly what would happen if I entered the country without a proper visa, talked to precisely THIS officer. What are the odds?
I was informed that I was very lucky, since he had planned to take me to the other room and give me a hard time. Oh no. Not the other room again…
I got out and met Agatha and Miguel, who drove me to the rental car place without delay. It was closed. They started calling up rental car places. All of them were closed, except the one at the airport. Miguel said he was uncomfortable dropping me off at the airport (it was 10.30 pm by then) and, believe it or not, they drove me all the way to Fort Lauderdale. I couldn't believe it. Just when I was about to lose my faith in humanity, someone like this shows up in my life and does something so selfless. I was very touched. These two were real angels, saviors when I needed them.
Part II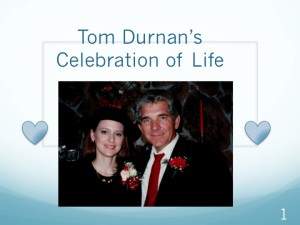 The avid reader knows that my father-in-law, Tom Durnan, passed away on February 20. A Celebration of Life was planned for April 27. TJ had to leave for Alaska just a few days before that and was unable to attend, which really bummed me out. I was very apprehensive for more than the obvious reasons.
I'm a very emotional person. Those of you who know me can probably think of one too emotional moment or another. I can't say I'm a fan of crying in front of 50 people, but sometimes it's unavoidable (love you Nick & Carol!).
That is to say, I hardly knew anyone at the Celebration, and I did not want to embarrass myself or anyone else. We all grieve –it sucks bad enough as it is, without any overly emotional displays.
First of all I had to get to West Union, Iowa somehow. I inherited a 1982 Buick Riviera which I planned to drive back to South Carolina, so I couldn't rent a car in Chicago and drive down and back to O'Hare, like we usually do.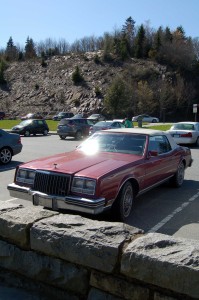 Don't listen to this now, mum! Karen had hooked me up with George, a dear friend of Tom and Karen, who lives in Chicago and was also attending the Celebration. Here I was, yet again getting in a car with a stranger! What a blessing that turned out to be. The start of many blessing that I got this weekend.
I find it hard to describe all the events that occurred. It was very overwhelming. All I want to say here is thank you to the people who gave me love and support and saved my sanity. Karen, of course, you are so strong, and I'm glad to have you and I love you.
And the new people I met who made me feel like family, who gave me support I never expected but appreciated more than you guys will probably ever know: George, Freddy, Jimmy, Al & Judy. You were so great, I almost want to move on land to find myself friends like you. I hope to hear from you every once in a while.
I'll miss Tom. He was the best father-in-law I could have ever wished for. I was hoping that this weekend would make his death a bit more real for me. It didn't though. It felt like he was just on vacation and would walk in at any minute. Now his ashes have been sprinkled in the Little Turkey River, and he's on his way around the world. A good man, gone too soon indeed.