Hi there, and welcome to our blog. Us, that's TJ, Jenny and Baxter the dog. If you are on this page you most likely met us already, nevertheless here's a brief introduction:
TJ is the pro. He's been involved in the maritime field since the age of 17. With a passion for boats he's logged over 40,000 miles offshore. As a kid he spent his summers sailing all over lake Michigan on a Cal 25. His cruising adventures started in the late 80s/early 90s with a 2 year Caribbean cruise with his dad Tom aboard a CT 41 named Ahora. Upon their return to Northern Illinois a gentle kick out the door made him go find his fortune in the Bering Sea, where he is now the skipper of a 170′ trawler with a crew of between 30-40 depending on the season. This lifestyle enabled him to continue cruising part time.
In 1991 he bought Ahora from his dad and sailed her across the Great Lakes, where she eventually suffered some nasty rigging damage in a fall blow. Instead of trying to fix the boat up with his limited funds at that age, TJ sold her.
Being boatless for a few years, working as a deckhand in Alaska and living in his tent next to his mountain bike in Moab, Utah, TJ traded the sailing life for some very rewarding years in the desert. 1996 was the year to move on to another boat: the beautiful 36′ Cabo Rico Star Path. He bought her in Seattle, sailed her for 4 years around the NW, including a trip to SE Alaska, back down to California and eventually to Mexico. Being bored from time to time he took trips to Ecuador and the Galapagos (twice), but always returned to Puerto Vallarta, where he eventually sold her in 2005.
Later that year he decided a strong, offshore sail boat that would be safe yet comfortable in higher latitudes was the way to go. Looking all over the world for the right boat, he finally found the South African built 43′ Roberts Mauritius steel cutter in Fort Lauderdale and named her Western Explorer. Having complete confidence in this boat, his very first sail was from Fort Lauderdale offshore 1100 miles to Tortola. Shortly thereafter Jenny crossed his path and they sailed through the Eastern Caribbean, enjoyed a month in Colombia, went through the Panama Canal and to Costa Rica. From there Western Explorer was shipped to Seattle, where they lived aboard for 2 years before taking off for Vallarta again.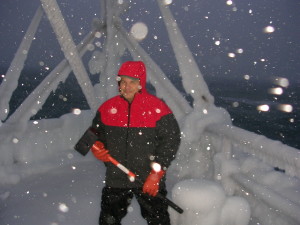 Jenny never gave sailing a second thought before she met TJ. Growing up in inland Germany, sailing wasn't exactly the sport of choice. Having always been a natural explorer, she traveled a lot in Europe, and made her first trip to the US at the age of 15 on a students exchange. Seeing the historic beauty of old Europe and more exotic places like Tunisia and India, all she wanted was more adventure.
On a visit to beautiful St. Thomas she met TJ and his boat, Western Explorer. Falling in love with TJ and sailing in the BVIs she decided to give this lifestyle a shot. On the next trip, Trinidad to Grenada, she discovered the real challenges of sailing, made real good friends with the puke bucket, and decided seasickness was a small price to pay for a lifestyle such as this.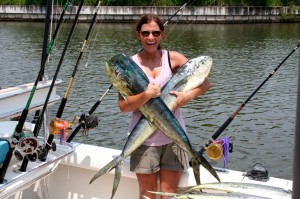 After 3 months together, TJ and Jenny decided to fly to Las Vegas and get married. A risky maneuver it might seem, but one person summarized this relationship very well. Jenny and Tom met briefly on Tortola. He asked her: "What do you want out of life?" And she replied: "Adventure!" To this day he says he knew then that Jenny was right for his son.
In November 2007 TJ and Jenny, then living in Seattle, adopted a little Beagle/Jack-Russel Mix named Baxter. Baxter has proven to be an excellent boat dog. So far he has logged about 4000 miles under sail, and is fearless in trying new things. He loves to ride in the dinghy, the kayak, and lately has taken to standup paddleboarding very well.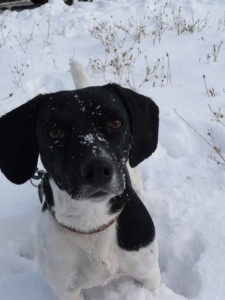 After living in Seattle for a few years TJ and Jenny decided it was time for a change of location. The new location of choice was Puerto Vallarta, Mexico, where they eventually settled. But the sailing bug was just muted. In January 2013 they added the 55′ Bieker Riptide Rocket Science to their family. Since TJ would keep working in Alaska and only has 2-4 month blocks of time off, there was a need for speed. With cruising speeds between 8 and 12 knots and top speeds upwards of 30 knots in the most exciting conditions, this boat will enable them to greatly expand their cruising range and still be able to meet work obligations.