Yes, I know I ripped off Marquez, but it's such a fitting title for our little king.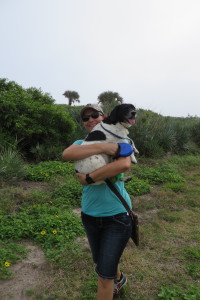 We shipped Baxter off to Europe a few days ago with Jenny's friend, Natascha. He will spend the winter and spring with Grandma. Jenny will go to Europe on Tuesday, and when she comes back, it will be without the mutt. We don't feel like we should subject our old man to an Atlantic crossing, and we don't want to fly him 3 times across the pond in 6 months.
So, Jenny's mom will spoil him rotten while he awaits our arrival on the boat. Our only fear is that he's not going to want anything to do with us after a 6 month luxury treat spa vacation…
It's a bummer to see our little guy slowing down like he is, though. We get the sense that his days are getting numbered, maybe a few more years and we'll lose him. Best rescue dog in history, despite his many issues. I remember reading an ode to a dog in 'Outside' magazine, mostly about a guy and dealing with his dog's many freakouts. He closed with 'You know, I'd take a bullet for this dog…. And someday I probably will.'
My sentiments exactly.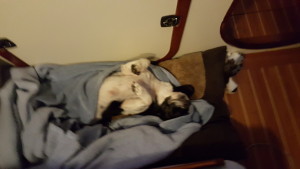 See you soon, buddy.