Jenny's story:
England was never on my bucket list. I did the obligatory weekend trip to London once half a lifetime ago. It was a bus trip from Germany, and not a whole lot of fun. When TJ and I decided to spend the winter in England is seemed more of a necessity as a base to go places further North from that actually are on my bucket list than a destination that would excite me.
Lymington was alright, but there were several things I disliked about it, especially most of our fellow boaters who could be seen walking around with their noses so high up in the air I was afraid they would soon fall victim to some sort of altitude sickness.
There were exceptions to the rule. Ann and Ged and Tilly the dog, and David and Laurel were all very special.
So when it was time to get out of Lymington I was okay with it. At the end of March we started our cruising season and visited a few more places, none of which I got overly excited about. Then we pulled into Plymouth.
The Marina at Sutton Harbor is very central, and it's a short walk to anything you could ever want. Including Starbucks (GASP).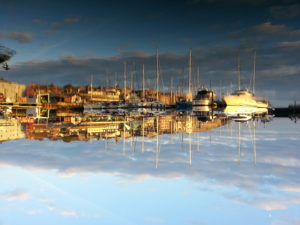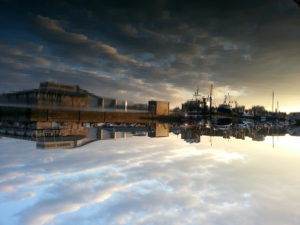 We got there fairly late in the day. The next morning I took Baxter for a walk up to the Hoe which is a very nice, big park with a spectacular view across the whole bay. It was a bright, sunshiny day and when I caught my first glimpse of all the stunning beauty there was a warm spot deep down inside me that said: THIS is where I want to be.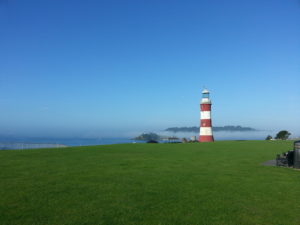 I knew, however, that revelation wasn't going to go over so well with my dear husband. On my way back I stopped by the marina office and got a quote for us to stay until mid July. It wasn't bad and in fact cheaper than our intended destination, Dublin. It's good to have all the information needed to back up the requests. As I suspected TJ was not amused. He still had a couple of weeks off, and he wanted to see new places! So I grudgingly gave up and thought to myself well, Dublin shouldn't be too shabby either.
We continued on to Falmouth, sat there for a few days and waited for a weather window. Finally we had one that would have maybe, hopefully just about almost gotten us to Dublin if we were lucky and the forecast held up and nothing went wrong. Sounds like ideal conditions to go sailing to you? Yeah, not to me either.
That day TJ went up to the marina office and talked to Ian there. He told him that I had really wanted to stay in Plymouth, but that he wanted to go to Dublin. Ian very nonchalantly answered: 'What the hell do you care where the boat is? You aren't even going to be there!' Imagine my surprise when TJ returned to the boat and asked me if I wanted to go back to Plymouth! Hell YES!
We spent a blissfully happy week in Plymouth, with beautiful weather. TJ left on April 22 and I tried to settle into yet another new beginning.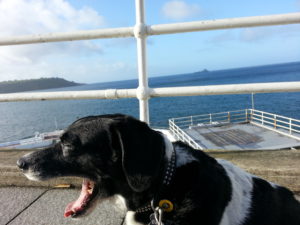 I'm strongly suspecting that all people who ended up in Newfoundland came from Plymouth. Because next to the Newfies the Plymouthians must be the nicest people on earth. Even the ones you wouldn't ordinarily suspect to be nice people. The ones who are tattooed up to their eyebrows, shaved head and all and look like they might just pull a knife on you and try to steal your purse. They give you a friendly smile and say: 'Hiya, you alright?'
Here we meet Plymouthian cultural lesson number 1 and 2:
1) Never judge anyone by their looks. I have not met one person who was unfriendly in that town. In fact, some were a bit too friendly, but more about that later.
2) I thought I learned proper British English in school. They taught me to say: Hi, how are you. So what was this 'you alright' all about? Did I look unwell? It seemed to express some sort of concern. I decided to consult my most trusted source: Karen at the marina office. After she had a good laugh she explained to me that this is the Plymouthian way of saying: Hi, how are you. It reminded me of Germany, where nobody anywhere actually speaks any proper German. I wonder if it is that way in England, too?
As in most places I got in with the dog crowd right away. Baxter and I walked up to the Hoe every morning, and depending on what time we went (which these days largely depends on whether Baxter feels like punishing me or being Mr. Geriatric) we met different people. There was the friendly old guy with the Dachshund, who happily argues with me about Brexit for long periods of time, and told me all about the German friends he had in 1972.
There was the guy with the black lab who just couldn't believe that it only took us 8 days, 18 hours and 48 minutes to get from St. John's to Dingle. Every time I met him he had to confirm the time again, because he has sailing friends who, after he reported my information to them, were just stunned and needed to know all the details. And that's all he ever wanted to talk about.
There was Pedro, with his big, badass looking dog who looked like he could rip your throat out if he felt like it and was really the sweetest lap dog. He mostly walked with a friendly lady with a black lab, who I would later encounter at Cap'n Jaspers. Same thing every day.
And my bestie Jim of course. He's 78 years old and has a 2 year old Collie who is very energetic. So they walk. I think they must walk all day, because not just did I meet him in the mornings on the Hoe, but randomly in other places throughout the day. Amazing.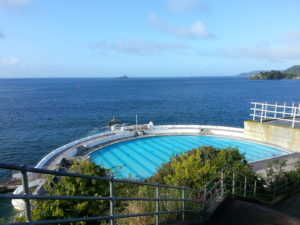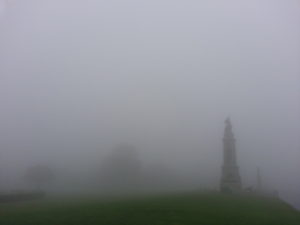 There are many memorials on the Hoe. Most of them are big, beautiful war memorials. One day I walked down one of the side paths and noticed a small, fenced-in area of scrubs. There was a plaque with the inscription 'for those dedicated to world peace'. The priorities are very clear around there, apparently.
In the beginning I felt very sad and lonely. I hadn't been ditched in a foreign place for about a year, and it was odd to be all by myself again. You know how people move to another city, even another country for a job, love or whatever reason? How it is hard to start all over in a new place. I feel like I do that up to 3 times a year, and it is starting to get old.
Things got better as I got more familiar with the place and the people. Karen was wonderful. She encouraged me to come up for a chat and a coffee any time, and I did so maybe a bit more often than was healthy for her work schedule. Talking to my Hoe friends was also good. In the end I found out that they all called me 'the American lady', though I had told every one of them that I am German. I suppose TJ finally lost the argument about me having a strong German accent…
I started going to a yoga studio nearby, the Yogaloft. There was a Monday morning community class which was at 11, the perfect time after dog walking and breakfast. For some unfathomable reason it was taught by a different teacher every week. But, this way I got to know the different teachers and their style. In the beginning I didn't catch on. Leaving my fabulous yoga teachers in Germany had been hard, and it left me with the feeling that I would never, ever find anyone who'd be that amazing and have such an impact on me. To prove the point, I did go to a yoga class in Lymington, and it was horrible. It was in a very cold, dirty room and so slow I almost fell asleep on my mat.
Anyhow, here I was, all sad, and then Georgie showed up. I quite liked her class, and she encouraged us to come to the newly offered hot yoga classes she taught. Now I was somewhat suspicious about that. I asked her after class and she said 'it's a very safe class'. I wondered how in the world that would be accomplished, but decided it was a good idea to try and so I did.
5.45 pm isn't really my time, but what the hell. Trying not to get stuck in old habits (I HATE working out after noon) I went and fell in love. Georgie gave me back all my faith in yoga, and she's a wonderful teacher. I learned tons from her, and am deeply grateful that I was able to be her student.
Finally after a few weeks Jo returned. She's the owner of the studio and took over the Monday classes, and it was so much fun! I noticed right away that the attitude around there is much more relaxed than in Germany. Everybody brings water and there's even some talking in class. I'm not sure which I prefer – but trying to be all yogi about it I didn't mind either way.
I also joined a gym right before TJ left. I decided I wanted to up my game (especially because one of my yoga goals is to master a hand stand and that takes some muscle!) and started training with a personal trainer. Hollie is one of those people who you must like instantly. She's that super cute happy-go-lucky kind of girl who immediately finds a spot in your heart. She even kept that spot when she started kicking my ass. One shouldn't complain about pain that's self-inflicted, anyways…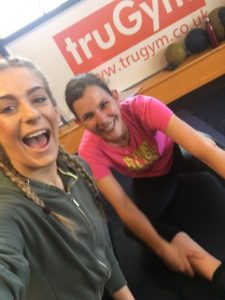 So I settled into a nice routine of walking, yoga and workouts at the gym, Netflix, chicken soup and the great cod bake of 2017 at home.
The weather was nice for a little while. One of my favorite Plymouth stories happened on a nice, sunny afternoon when I was out walking the reverse Hoe route with Baxter. A homeless man came towards me and started petting the dog. Then he told me this very long story about how he had a dog that got sick, all the while standing really close to me and spitting a little. I slowly crept backwards, hoping not to offend and not to catch anything. The poor man was very run down. Anyway, that dog got very sick, had seizures and what not and was close to death and so he took it to the vet. The vet said to him: 'Sir, I can either put this dog down, or you can take him home and pray.' He couldn't get himself to put the poor animal out of its misery, so he took it home and prayed all day. Guess what? The next morning the dog was as good as new!
I spent the rest of the afternoon chuckling in random intervals.
The weather turned to rubbish soon thereafter and stayed that way for most of the time I was there. We had precisely 2 heat waves. One lasted for 4 days, the other one for 2. The rest of the time I had to run the heater, often even in the daytime. In July. No kidding. That was the part that bothered me the most. And the fact that there were hardly any people around. I had a Princess 58 next to me whose owner was super nice. He was only there occasionally though. I was just about 100% sure that his name was George, and that's what I called him for 3 months. I wrote something about him to TJ and he asked if I was talking about Colin. As confusion set in I decided to ask one of the dockhands. 'Oh, you mean Jordan?' At my wit's end I decided to consult with Karen. Turns out the good man was called Nigel. Oops.
At the end of the dock was a classic wooden boat with a wonderful family on it. Sach and Lotty with little Hector and Phoebe were brand new cruisers-to-be. They were super nice, always up for a chat and the kids were quite obsessed with Baxter. Lotty told me one morning they had just been playing 'Baxter' in the bathroom. How cute!
I spent my birthday by myself which was a bit sad, but I scheduled a good butt kicking with Hollie, and since that always made me happy it wasn't a bad day. A few days after I met Sach and Lotty and the kids with arms full of packages. I asked them if they had been on an online shopping spree, and they told me it was going to be Hector's birthday the next day. I told him that it had been my birthday on Tuesday and that made us star sign twins. The next morning they showed up with a slice of Minion cake and a home made birthday card because they felt bad that I had spent my birthday all by myself. It was most decidedly the bestest birthday card I have ever received, and if I ever live in a house I shall frame it and put it up on the wall. I was very close to tears, so touched by their kindness.
Big V came to visit for a week, and that was great. We had one day of nice weather on which we took a ferry to Cawsand and hiked all the way to Cremyll. We got there somewhat exhausted only to find out that there was no ferry back to the Barbican and we had to walk another 2.5 miles after getting across the water to the Mayflower marina. The rest of his time in Plymouth was gray and rainy. We didn't do anything too exciting after that hike day, but we ate a lot of really good food at the Rockfish restaurant, so that was good, too.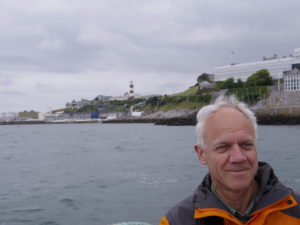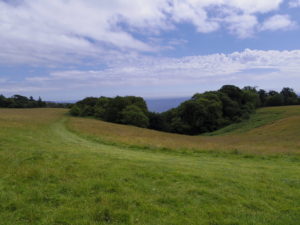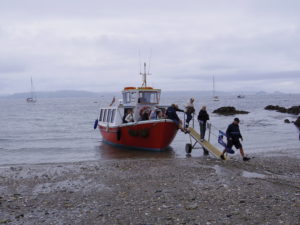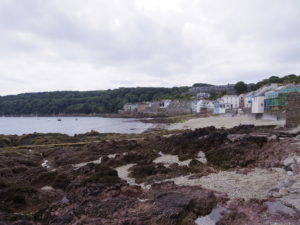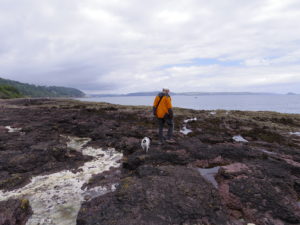 All things must come to an end, and since I am so very very sad about leaving Plymouth, I shall end this story (which has admittedly gotten a bit longer than I had planned) with another fun anecdote. There was a 32′ wooden boat at Sutton Harbor which was for sale. I saw the owner on it once, varnishing of course, and told her I thought her boat was very cute. About 2 weeks later I saw a 'sold' sign on it and was baffled by how fast that had happened. A few days later I saw a man and a woman on the boat while I was running back and forth doing the laundry. I stopped because I assumed they were the new owners, and I wanted to congratulate them on their purchase. Buying a new boat is so exciting, at least until you find all the things that need to be fixed or updated… We chatted for a while, and I was about to leave when the man (minimum age 70, kind of big, not much hair but a huge bushy beard) said: 'Come see me again soon, I'm single.' I was about to laugh it off when the woman said: 'It's true, I'm just a friend.' As in: he and I was an actual possibility. I avoided doing laundry for a while after that…
So, thank you again Plymouth, you mad, brilliant, rubbish weather place for the wonderful time!
Thank you Hollie, for not having any mercy with me (as requested), and for being such a sweet, loving, caring person. Stay just the way you are and don't be so insecure, you are a really good person.
Thank you Karen, for caring, for getting me a birthday card, and for entertaining me when I needed a friend.
Thank you Georgie, for being a wonderful teacher and restoring my faith in yoga.
Thank you Mark, for being kind and helpful and having mercy and endless patience with this internet addict.
And also special thank you to Dr. Holly May from Back2Back Chiropractic, who took such good care of me and finally, after many years, solved my shoulder problem! You are brilliant!