The old man and I left Ft. Lauderdale on 'Ahora' in 1989. This was the cruise in lieu of college.
We had the good fortune to be anchored off the Panama Canal Yacht Club just a few short weeks after the US went in and overthrew Noriega. At 17, this was endlessly fascinating to me. The town of Colon, a dangerous shithole at the best of times, now had the additional attraction of troops still in the streets, and buildings riddled with bullet and shell holes, and some roofs blown off to boot.
My first (actually only) war zone. I remember checking in with customs and immigration. The building was shot to hell, and there was no roof left in the office. While we were there, a rain squall came through. Papers were hurriedly gathered, typewriters were covered in plastic sheets, and everyone retreated to the single dry corner until it passed. Then, life carried on as usual.
We signed on to a California-based boat, named 'Captain Musick', and went through the canal as line-handlers.
Shortly after, we had enough destruction and ruin, and headed off to the San Blas.
Back then, there really were hardly any boats cruising the islands. We saw 3 or 4 sailboats in the 6 weeks or so that we were there.
Our arrival at our first stop was absolutely incredible. The village, home to about 40 Kuna, all excitedly piled into their dugout canoes and paddled furiously to come out and stare in wonder at the new arrivals. We didn't even have the anchor down, and the rails were lined by smiling Indians. Even more remarkable, the crowd wasn't there to try to sell us anything, not to ask for anything. They were all just there to come and spend time with the newcomers.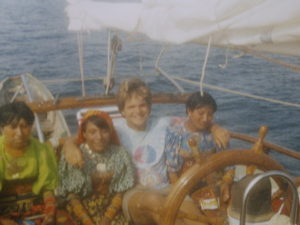 It gave us some very small idea of what it must have been like when the early explorers arrived in remote places. Truly remarkable.
Our most recent visit, while still very pleasant, certainly didn't compare to back then. Our sailing boats are old news these days.
While in this first anchorage, we became friendly with a Kuna named Nigel. He'd had some schooling on the mainland, and spoke passable English. He wanted to go to one of the more remote islands, where he had some family. A warm welcome was promised, and he would guide us through the reefs to get there. The charts of the San Blas are based on incomplete surveys from the mid-1800's, so some local knowledge was welcome.
We left late one morning, to have the sun high and behind us for reef spotting, allowing Nigel to take the wheel. We quickly noticed that every time we came near another canoe he would discretely change course, so as to pass as close as possible to his buddies. Each time, he would stand proudly at the wheel of this huge yacht (by dugout canoe standards), grinning at the bewildered folks paddling along. It was cute.
Our next arrival was in a place which was apparently even less visited. By the time we got the anchor down, we had easily 100 people surrounding us. We were informed by Nigel that since we were on one of the main, less visited islands, we would have to go meet the chief at the great hut, and gifts would be a good idea.
My dad's friend, George, a dentist with a desire to spread better dental hygiene to the less developed world, had given us a big box of toothbrushes to take along on our trip. Perfect!
So, armed with our gift, our flotilla paddled our way into the village, where everyone who wasn't with us on the water was already assembled in the great hut. The big chief and two under-chiefs welcomed us to the island, a few speeches were made, translated helpfully by Nigel. Finally, it was time for our gift to the village.
What a flop.
A polite smile, some quiet conversation between the chiefs ensued. We could tell we didn't do too well. After a pause, the big chief spoke up, saying that the village was low on tobacco, and this would be a better thing.
Well, we had none.
A little desperate, my dad mentioned that he had a big bag of candy on the boat, maybe we could hand that out to the children? Once this was translated, the air was electric in the hut. We seemed to be doing a little better with plan B.
So, back to the dinghy with an even bigger flotilla surrounding us!
We grabbed the candy, fended off the mob, and managed to make it generally unharmed back to the great hut.
The intent had been to hand out the sweets to the kids, but the melee that ensued made it very quickly clear that this was going to be a free-for-all, with teens and women knocking over kids to make sure they got their share of this unexpected bounty. I managed to grab a few handfuls and make sure the little ones got some too, while the old man dealt the best he could with the rest.
So much for the dental hygiene mission…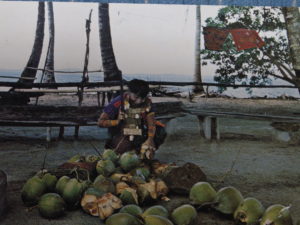 Most of our days there were spent snorkeling on the reef, socializing with the few other cruisers, and really just reveling in the magnificent culture of the islands. The initial excitement of our arrival slowly wore off, but generally, we would have a canoe or two alongside from dawn until dusk. Most mornings, I'd wake up to a couple of smiling Kunas peeking down through the windows at me, happy to see me finally awake.
What a fascinating place. To do it at that age, with dad, was also pretty special.
Finally, it was time to go, next stop Cartagena, Colombia.
That's a story for another day, however.