Home is where the heart is, they say. Funny, because occasionally I catch myself talking about home, sometimes referring to Rocket Science, or to Aachen, Germany, or to Seattle. Which leads me to today's topic – the realities of 'living the dream' you don't hear about so much.
When the freezer broke the other day someone pulled out the oldie but goldie quote 'cruising is fixing your boat in exotic places'. Well, you better hope that your boat is nice enough to hold it together until you get to a less exotic place, because it's much easier to get them fixed in civilization. Of course if your husband is closely related to MacGyver you will have a much easier time, but still, locating spares, or help if needed can be a challenge.
We recently met a very nice German couple in Spain. They are now in Morocco with engine problems, and two different mechanics have diagnosed two different problems. One of them was unfixable in Morocco, the other one could get a quick fix so that maybe they could make it to Lanzarote to the actual mechanic.
Or, you are one day into your Atlantic crossing and you discover that the sliding bracket for the alternator has broken. And then you are lucky if your engine is as easily accessible as ours is, and you don't have to be in the middle of the ocean, upside down, swearing and sweating.
Or, you have a new crew member. She tells you she is VERY experienced, you leave her alone for 30 minutes and she manages to clog up the head, which you then have to fix, angry as hell, poo everywhere, while she is insisting on sticking around to 'help' while you don't need help and just want some privacy for dealing with the poo.
Living the dream yet?
Okay, I will admit this: the more things break on your boat the better you get at fixing things, and the more you learn about your systems. So here's an upside!
Rocket Science, however, has been solid as a rock. Yes, things happen, but all in all she's been amazingly reliable. Of course when things happen, TJ is never home. He claims that things do happen when he's home, I just don't remember because it's never a big deal. There might be some truth to that. However, I'm almost an expert at fixing the head, the fridge and the heater. The most important things when in port.
Ah, yes, I still owe you the freezer story. I woke up in the morning and the freezer temperature was at 29 degrees Fahrenheit. I was surprised, because that was way too high. The set point was still set at 20. Something had to be wrong. I climbed in by where the unit is. Sure enough the red indicator light gives 3 flashes. The fan is running, the compressor won't turn on. I downloaded the troubleshooting pdf sheet from SeaFrost, and it immediately became obvious that the only possibility here was a broken module. At this point I'm mildly annoyed. I reserve total freakouts for heater breakdowns in November in Rhode Island, or a clogged up head full of poo.
It might have been different if we hadn't been so ingenious as to install two separate units for the fridge and freezer. Okay, TJ was so ingenious. With him by my side I only need to show the ocassional flash or brilliance.
Anyways, we talked it over and decided to get a new unit since this one is a complete PoS which we have hated every minute of every day since we've had it.
I walked up to Prodomestics, the local refrigeration shop. I explained to them what the problem was and mentioned that I would like to replace the unit. They suggest that the unit might be fixed. I said: 'Look, I know the unit can't be fixed, but I don't want to fix it because it's a PoS!' The guy said they'd send someone down to take a look.
The next morning a very friendly guy showed up. I explained the situation to him, and he was quite surprised to learn that I wanted a new unit. He told me I needed to send an email to the office, tell them what I have and what I want, because they told him to come here and fix the old unit. After I had explicitly said I didn't want to fix it. Grrrrrrrrr!
That was the first time something like this has ever happened to me. It sucked though. I might not be an expert, but I'm not stupid either.
So – be prepared to get down and dirty, sweaty and make sure you have an adequate inventory of swear words if you are planning on living the dream!
Let's talk about the weather. You are probably thinking about beautiful tropical locations, palm trees and clear blue water when you think about 'living the dream'. Well, we've been to those locations, and it's fantastic (though remember that those locations do oftentimes attract hurricanes). But after 5 years in the tropics I was ready to experience the seasons again. Especially fall, which is my very favorite season.
We made it through those 5 years with very little incidents on the weather front. Actually, I don't think there were any. We did have two tsunami scares, but nothing too spooky.
Sometimes people ask us what's the worst weather we've ever experienced at sea. The answer is, we look at the forecast and if it looks gnarly we don't leave port. That might not be the sensational story some are looking for, but that's why we are still here living the dream.
There were two occasions where the dream was rather nightmarish for me. TJ was gone for both. The first time I was in Sausalito, California. They had the worst October storm in 50 years. It blew 60 knots sustained. I ran out every 10 minutes to check the lines, getting soaked by the rain. I almost shit myself, and I seriously questioned if living on a boat was such a good idea.
The other incident occurred this week. We are in Gibraltar and the forecast was for Easterlies, 35 knots with gusts up to 56. Here at Queensway Quay Marina we weren't too worried. Easterlies mean the Rock blocks most of it. At this point I'd like to quote a lovely gentleman who captains a big power boat and lives on the same dock: 'I thought I was going to have a quiet Sunday' he said. 'It was supposed to blow easterly, but I forgot that this is Gibraltar, and easterly means it's blowing from all f…g directions!' It's true. I'll go for a run and have a head wind the whole time. I get to the half way mark, turn around to run back and I also have a head wind. Gibraltar is funny that way.
Anyways, he was right of course. The wind switched often, and it was ugly. The swell inside the marina was terrible. The wind wasn't even that bad. The motion of the boat was so violent, I was seriously afraid she'd be ripped apart. Or at least we'd rip out a cleat.
I'm not a fan of med mooring, mostly because it doesn't seem that safe, and you are even closer to your neighbors than you are when you are at a finger pier. But in this storm I was very uncomfortable with the docking situation. Not to mention that neighbor A (sailboat) wasn't around, so I had to look after his boat as well, because if something happened to his boat something would inevitably happen to mine. Neighbor B (powerboat) didn't bother to come outside more than once to check on his lines and fenders (I ended up adjusting the fenders) and after the storm was over complained to me that his boat got damaged bu his other neighbor who wasn't around. Well, you should have come out and taken some responsibility, eh?
So that sucked. And it lasted for 3 days. Nobody in Gib slept much during that time. I wasn't scared shitless like I was during the storm in California, but it was not good. Making an attempt to not sound too negative here: it's all a good experience. Not an actual good experience, but you go through these things and if you managed to get out on the other end more or less unscathed you have learned a lot and become stronger. Because you know you can live through something awful like that and be okay.
This brings me to the last, and the most painful part. This storm and the fact that it was immediately followed by a broken freezer was especially hard on me. Baxter has been sick since November. After a lot of back and forth to the vet, and several tests he was diagnosed with Cushing's disease. This is caused by a tumor on the pituitary gland. That means his body overproduces cortisol, which leads to a number of symptoms. Most prominent is the excessive drinking. For a dog it is normal to drink between 20 and 100 ml of water per kilogram of body weight. Baxter should drink a maximum of 1.6 liters (that's a bit less than one gallon). But he was drinking up to 4 liters, which led to him having to go out to pee several times every night. While TJ was home that was annoying but doable, since we could share the duty, but when he was gone it was all on me. He has since been on medication for diabetes insipidus (the body's inability to retain water) which helps.
The problem is now that the medication he has to take is very aggressive, and it is hard on the liver and kidneys. 3 weeks ago his liver failed and he had to spend 4 days in the hospital, off his Cushing's medication, to try and restore the liver. While it has gotten a lot better it looks huge in the ultrasound. I do not know what the implications of this are – the vet said it's because it failed. But he has to go in again for testing tomorrow, and he will most likely need a higher dose of the meds, and that will be even worse for his liver.
Baxter is on borrowed time. That in itself is heartbreaking. He's been our little buddy since we rescued him from certain death a little over a decade ago. Then there's the uncertainty that goes along with this. He can be fine today and his kidneys could fail tomorrow. Or his liver. I'm watching him with eagle eyes all the time. I wake up in the middle of the night to see if he's still breathing. It's wearing me down.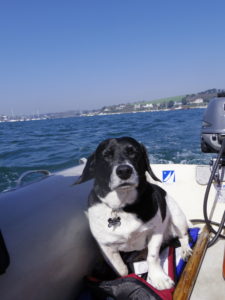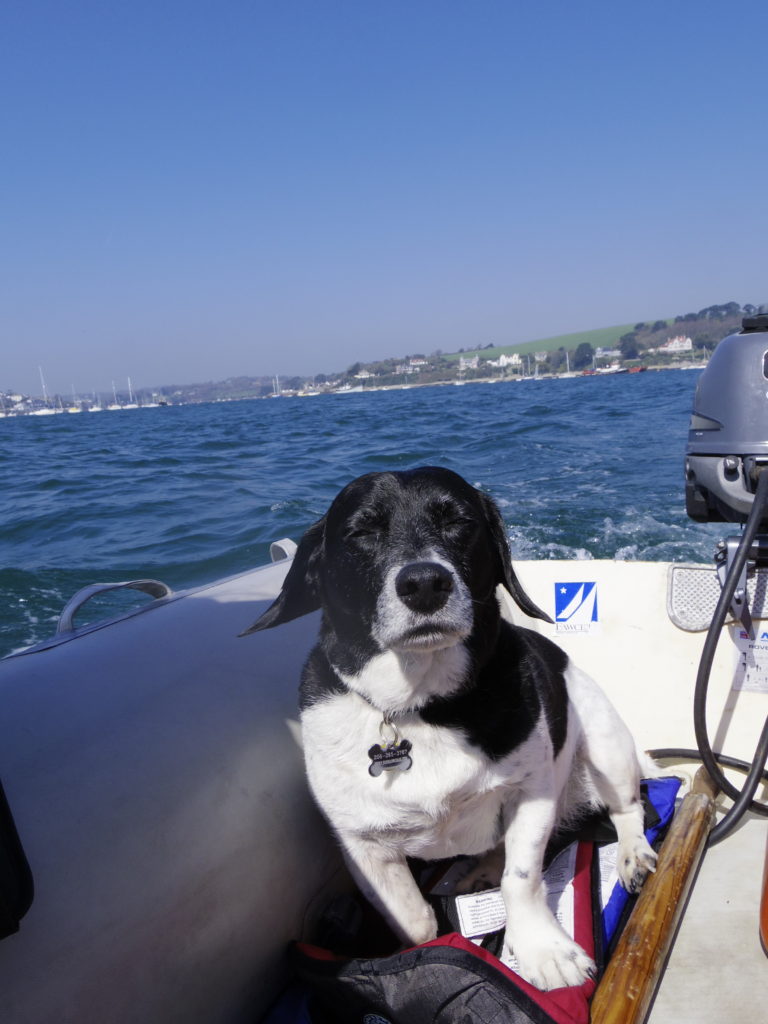 And this is where the hardest part of cruising life comes into play. You don't have your friends and family around when you need them. If you have been gone for long you are lucky if your friends haven't forgotten all about you. Out of sight, out of mind. Sometimes you just grow apart, because land life and sailing life are so different, you might find that you don't have much in common anymore.
It is heartbreaking. I'm lucky enough to still be sort of in touch with a very few of my friends back home in Germany. I'm lucky enough that one of them still makes an effort to really keep up the friendship and not just talk on a fairly regular basis, but also comes to visit me sometimes (love you Natascha!). But many are gone, and I miss the times when I had the luxury of knowing there were many people around me at an easy distance who loved me.
The other part of this are the people you meet while cruising. You meet, you spend some time, you grow close, and then you leave. Or they leave. Or everybody leaves and goes in different directions. And while you may stay in touch via social media or email, it's just not the same. Sometimes you meet again, and it's a joyous occasion. But a lot of the time you never see them again, and that can also be difficult.
Again, you learn a lot. You learn to be self sufficient, and you learn to like your own company, and that's all good. But even though I still love the boat, and I still love to travel and to go on adventures I have grown increasingly tired of the missing foundation that a place to call home and friends provide. And on that note, we are going to take a little break from full time cruising. We are taking Rocket Science back to Seattle and will spend some time there and messing around in the beautiful pacific North West.
Now don't give up on us just yet! There are still things we want to do, our sailing life isn't over. But, there's a time and a place for everything, and this is the time to go home. We've spend the last 10 years cruising, and it's been an amazing time. We'll hopefully get a liveaboard slip at our old favorite marina and hang out there until it's time for more cruising adventures.