I finally got home from my epic stint at work during the first week of July, rejoining Jenny and RS in Gibraltar. On tap was a mini-cruise of the W. Med. A few stops in the Islas Balaeres, then some cruising in Corsica and Sardinia.
We had been warned by those who had gone before us that July and August were pretty awful in the more popular areas. Boats crewed by folks of little to no skill, chaotic anchoring, heat, and super high costs for marinas were all mentioned.
But, how bad could it really be? We certainly weren't going to be going to Ibiza or Palma de Mallorca in July, but we figured that we could get off the beaten path enough that it would be pretty much ok. In most cases, we did ok.
So, we slipped the lines and headed East shortly after getting RS stocked up with provisions. Our first stop was Cartagena, Spain. We spent a few days in this attractive town. This is a really popular place for folks to winter on board, and it's easy to see why.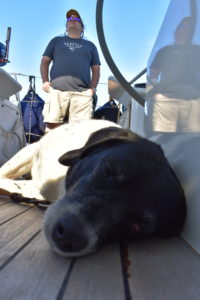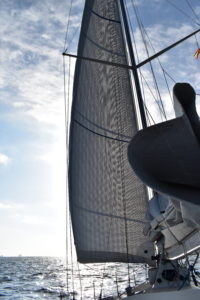 So far so good! We enjoyed our time in Cartagena, but were sad to say goodbye to our dear friends Judith and Poppy on Just Browsing. They had been our across the dock neighbors in Gibraltar and we had been very happy to see them again in Cartagena.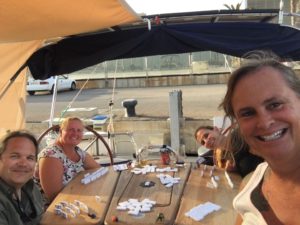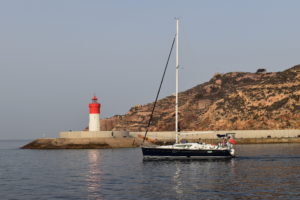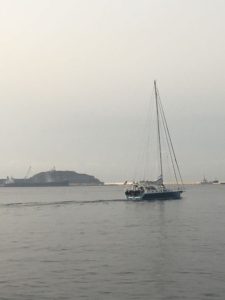 Next up were a few days in Alicante. This was our first taste of the marina pricing we'd been warned about-about 140 USD per night. It's a nice town, and a pleasant place to visit, but headwinds kept us there for longer than we would have liked at that price.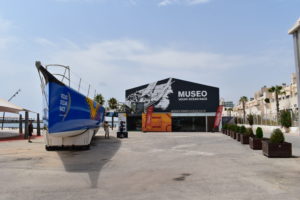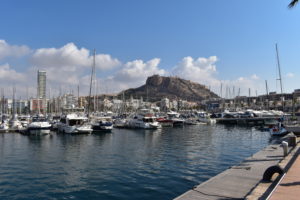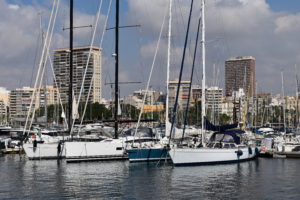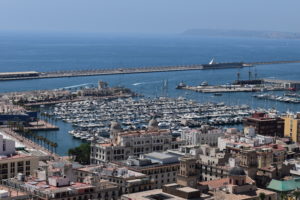 Then, we sailed direct to Menorca, the least crowded of the Balearics. On the way there we were enjoying a good, fast sail with our Code 0. The wind was gradually increasing. Just as we were discussing that the sail was loaded up and maybe it was time to furl it there was a tremendous bang. We both watched in mild annoyance as the top of the sail flew down wind into the water. We hove to, fished the sail out and discovered that the halyard shackle had broken right in half.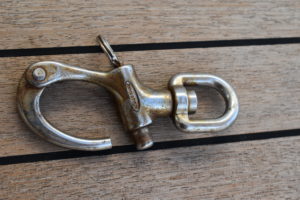 We looked initially for a place to anchor, but found anyplace that looked good totally packed with boats. I wasn't too happy to try to wedge in, so we went dockside in Mahon for a few days. They have some floating pontoons out in the harbor, and we used one of these.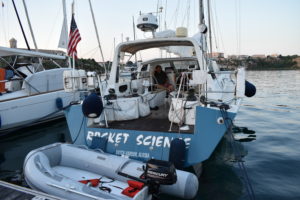 We liked Mahon a lot. The dinghy saw a lot of use, Baxter found a great beach to hang out on, and the town itself was a treat.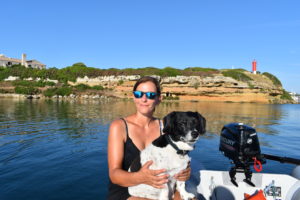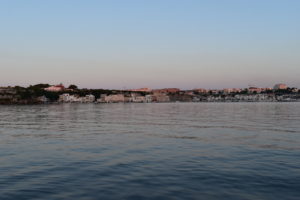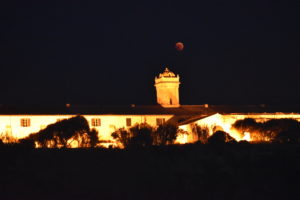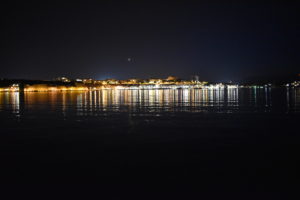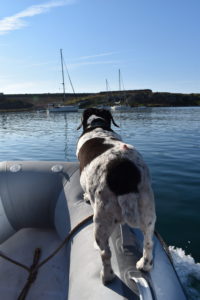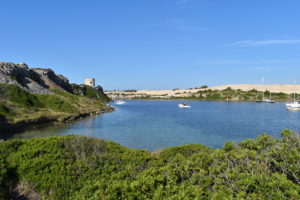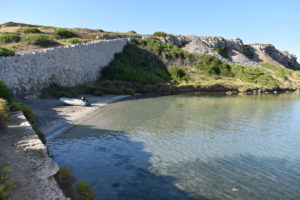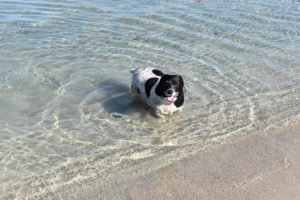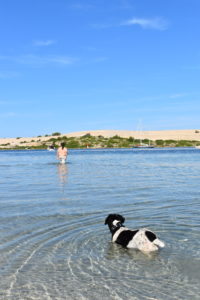 Finally, it was time to go, and we sailed direct for Cagliari, Sardinia.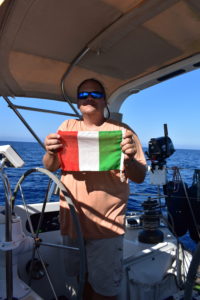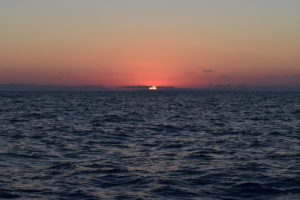 This is a port of entry, and we understood from the cruising guide that we needed to register with the maritime authorities. Having duly performed this duty, we did some shopping and got out of there as soon as we could The marina we stayed in was really a dump, and we weren't digging it that much. It seems to be a place where boats go to die-a big portion of them were in a seriously derelict state.
Leaving Cagliari, we headed back SW to sample some of the anchorages. Our first stop was Pula. It's a bit of a rolly anchorage most of the time (as most seem to be on that coast), with a long beach behind. We'd gone there mostly to meet Ryan and Elena from SV Kittiwake. They're planning to join us on our upcoming Atlantic crossing, so we wanted to meet up and get to know them a bit.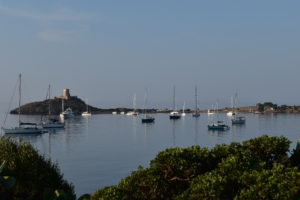 We had our first clue that all was not well in Pula shortly after we arrived. We took the dink off to an unoccupied corner way off at the end of the beach, and we were promptly surrounded by glaring Italians. We pulled the dink up the sand, and took B for a little walk on a trail back away from the beach. Upon our return, a new set of hostiles surrounded us and kept staring daggers at us until we were nearly back to the boat.
What the heck was going on? We made sure we landed well away from anybody-just like we've done on beaches in many parts of the world without anybody taking issue with it. There were no makers, no buoys, no signs-we didn't get it.
Anyway, we figured we must be doing something wrong, so the next time we went ashore, we went about 1/4 mile from where we could find anyone, landing through the small surf onto a rocky beach. This was better.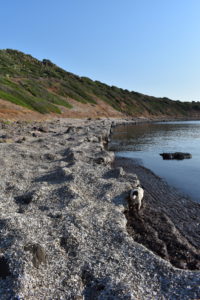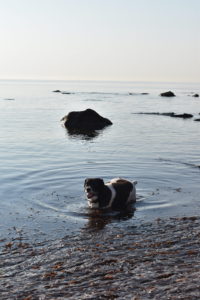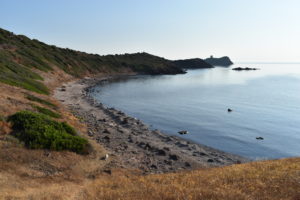 The next day, we got together with the crews of 2 other boats, Kittiwake and Songbird, and took 2 dinks in to the beach on the other end of the bay from where we'd been anchored. We had seen dozens of dinghies going ashore by this point, motoring right up to the shore, leaving them on the beach while the crews were in town or in a restaurant. We figured that we were fine to do the same. Wrong.
Anyway, we motored slowly, relatively close to shore, and then shut down our engines and paddled in the last bit, as there were folks on the beach. As soon as we got ashore, a couple of local cops were there, ticket books in hand. Fortunately, Elena's Italian, so we could at least figure out what was going on. Turns out that every single one of the dinks that we'd seen were operating illegally. We just happened to show up at just the wrong place at the wrong time. When we pointed out that we were operating more responsibly than anyone we'd seen, it didn't matter a bit. We had to head back to the boat in one dink while teenagers threw rocks at the other one to retrieve passports and boat papers, and then received a summons to the police station for the following day. We were really pretty gobsmacked by it all-even with our native Italian researching the rules, we couldn't find any rules published-there was simply no way to find them.
But, you can't really fight city hall, and we turned up at the appointed hour to face the music. 160 euros lighter, the matter was settled. The cops were pretty apologetic, really. We also learned that it was illegal to put your dinghy ashore, if you want to go to a restaurant on the beach, for example, the dink needs to be anchored 200m from shore, and then you can swim in. Dogs weren't allowed anywhere on the beach we couldn't even carry him across without risking a fine of 500 Euros.
Wow. Time to get out of Pula.
Together with Kittiwake we visited a couple of other anchorages which were a little more remote, and they were fine.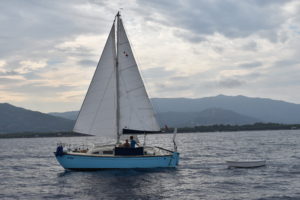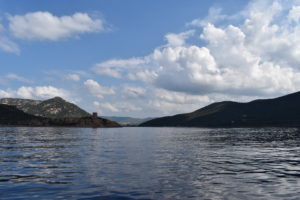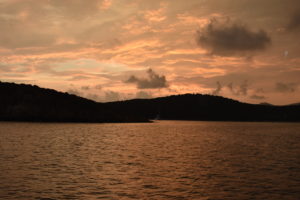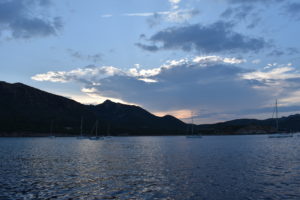 But, during all this, we came to a realization. We were in the least congested part of Sardinia, and we were already feeling like it was too crowded. Further north? Chaos. Everyone we had contact with further north was pretty traumatized. One boat had a superyacht anchor right on top of them, and then had the same yacht wind their chain up in its propeller, causing extensive damage to their boat. The national park was stuffed, no moorings available. The marinas? Huge money-if you could even get in. It really didn't sound like a lot of fun.
The solution? The Alps!
We decided that we'd bag our little cruise a couple weeks early, head back to Spain, and enjoy some time in the blissfully cool mountains.
I'm writing this from Chamonix, and it's GLORIOUS up here. We're going to spend 10 days or 2 weeks up in the Alps, then will resume cruising after Europe's vacation time is mostly over. Most experienced Med cruisers tend to hide for July and August, and we now understand why.
This isn't to say that it's all been horrible, but we both felt like our time would be better spent doing something completely different than sweltering with the masses during the high season. So far, it's been great.