You know how they say a cruiser should never have a schedule? True, but sometimes unavoidable. Having a schedule makes things inevitably more challenging, but it's doable, as we proved in the last 2 months. After completing the Baja Haha and a lightning fast trip to Puerto Vallarta, we had a lot of work to do: the storage unit needed to be emptied, and most of our stuff needed to go away. After living on Rocket Science for 3 months, the only things we missed that we had in storage were CDs, DVDs and my SUP. There were a few other things that got to come, but mostly we gave away a lot and had a big garage sale as well.
TJ's dad, Tom, came for a visit, and the 2.5 weeks we spent in Vallarta went by in the blink of an eye. We departed for Tenacatita on November 28th, spent 2 days there at anchor to recuperate, and then went on to Barra de Navidad, where Tom was waiting for us. Tom left a few days later to return home, but we enjoyed the time we had with him. Al Benaroya, our good friend from Vallarta and Seattle, joined us on December 4th. He is planning to take his boat to Hawaii in the spring and wanted to broaden his experience.
We left Barra on December 5th, planning to go straight to Panama City, but well aware that the Tehuantepec might cause some delays. And delayed we got indeed. Thanks to our Inmarsat we got to check the weather underway, and it didn't look like there was going to be a break anytime soon. Thus we decided to check out Zihuatanejo. The trip there was uneventful aside from the breakdown of our fresh water pump. As it so happened we had a spare. Which turned out not to work. So TJ took the saltwater pump out and put that in the freshwater pump's place. No biggie. It was my first time in Zihuatanejo, and I liked it. The only problem was that our dinghy completely fell apart at our first beach landing in Tenacatita. The tubes separated from the transom. Basically all the glue on that thing failed at the same time. TJ and Al did a master tape job, with actual tape (!!) and we managed to keep it mostly afloat for the 1 day and 2 nights we spent there.
From there we went on to Huatulco to do our international checkout since we were in Zihua on a weekend and didn't want to wait until Monday. The Tehuantepec still wasn't giving us a break, so we ended up in Huatulco for 3 days. Our arrival was quite exciting. On the phone TJ had been told that, even at low tide, the depth was 3.5 meters. Not so much! We ran aground halfway through the marina, and got stuck. It took a panga and 3 ambitious dock workers to get us out of there. The management then graciously allowed us to take a spot by where the big boats live. That didn't pose a problem.The international checkout was the usual running back and forth. The port captain sent us to immigration, the officer there didn't have a clue what he was supposed to do, so we all walked back to the port captain's again, then back to immigration, to the bank, back to immigration, and back to the port captain. The next day immigration and customs came aboard, had a Coke, filled out some paperwork and sent us on our way.
The weather forecast for the Tehuantepec called for 20 – 30 knots, and we had sustained wind speeds of about 25 knots, with gusts up to 37. We realize that we did approach this in an unusual way. Most people wait for it to go flat calm and then motor across. Rather than having one foot on the beach we stayed in the areas of the higher winds the whole time, sailing a broad reach all across the Gulf. That way we managed to cover about 200 miles in our first 24 hours out of Huatulco. After that it went flat calm. During the next 6 days we sailed very little, but managed to catch a nice Dorado that fought like hell and covered just about everything in the cockpit with blood. We also caught a sailfish, which we released while he was patiently waiting, seeming somewhat annoyed. I'm sure he threw a great "Cheated Death Again" party when he got home.
The Papagallos wasn't good to us. We had about 25-30 knots on a close reach. It was a bumpy ride for about a day or so. I did make a new friend along the way though. A little bird was blown off the coast and right onto our boat. He sat there for a day, and when it got light out the next morning I discovered he was still there. So I spent about an hour chasing him around, trying to force feed him a Cornflake. On some level he must have realized that I was trying to help him. After taking a nap in the cockpit cubby, he suddenly woke up, hopped right over and fell asleep snuggled up to my leg. It was very touching. Such a small animal displaying such trust! About an hour later he was dead. I assume that he was over exhausted from flying 30 miles out there. I was very sad.
Due to the lack of wind and the 1 – 2 knots sustained current we had against us for days at end, we decided to stop in Golfito, Costa Rica, for fuel. I was excited and annoyed at the same time. Annoyed, because I had spent about 6 weeks there in the summer of 2007 which didn't leave me with the best memories. Excited because I actually made a good friend, Tari, and I was going to see her again. We pulled into Golfito in the late evening in a full-on rain storm. The next morning I wrote Tari, asking her where her gallery was because I wanted to see it. She sadly replied that it was a bit far to come visit from Panama. When she heard we were at the Banana Bay Marina she came running right down, while we were waiting for our breakfast. It was great to catch up with her, and we spent the day cleaning up the boat, shopping and having a doggy play date at Tari's house. As it turned out Chris, who used to be the bar keeper at Banana Bay, and a great guy who gave me lots of moral support in 2007, was also still there. We caught up with him at dinner. The next day we left Golfito, me having the feeling that this stop had been worthwhile.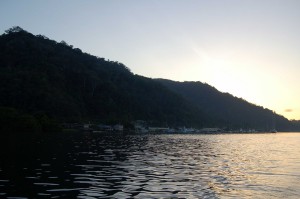 We weren't even out of the Golfo Dulce when the salt water pump on the engine just disintegrated. Al and I set the sails while TJ tried to find a solution. We weren't too hot about being towed back into Golfito, then trying to get someone to fix the pump there. So my genius husband took our forward bilge pump out of the sail locker, rigged it to the engine and off we went. I've gotta say, he's always pretty quick with the brains, but that one was a master piece that will be remembered forever.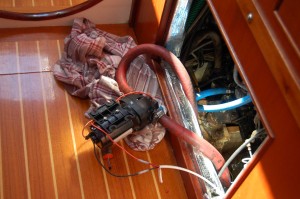 Needless to say that we spent 2 very high stress days at sea. We had hoped to reach Panama City within 2 days, but the second day was ruled by 20 knots of headwind and a current against us that I saw go all the way to 2.4 knots. Needless to say we weren't going anywhere fast. With a close eye on the temperature gauge, a close ear on the engine noise and all the weather bullshit, sleep didn't happen much. Miraculously our little pump ran like a champ the whole way. There was no way we thought that little electrical pump was going to make it for that long! We were approaching the Las Brisas anchorage about a half a day late when it started to rain very hard. We anchored in this nasty downpour, that stopped exactly the minute we were all done. A fitting end to a very stressful trip!
In Panama City we caught up with our good friends from Vallarta, Steven and Patty on their Island Packet Armagh. It was great to see them and catch up with them after about a year. Steven was the ferry master for us. Since we were nervous about our dinghy, he ferried us back and forth countless times on our first day, which was Christmas Eve.
Christmas was kinda skipped this year. The day started off with Tina McBride, the Canal agent, calling us to let us know the Canal Authority was going to come inspect the boat at 10 am in the other anchorage. So we sent Al to shore with our paperwork, and TJ and I hauled the anchor to make our way over there. We made it about 200 yards when the engine started stuttering and quit. We re-anchored and TJ gave it a good hard look. Turned out the fuel filter needed to be exchanged. TJ was working on high speed, but time was passing and we were very nervous about missing our appointment. As Tina put it: If you miss this, we are DOOMED! We were going to lose our transit date for the 26th, and then who knew when the next date would we available. We made it there in the nick of time. The Canal Authority called us up before we even got anchored. It was just a 3 minute visit, and we turned right back around and went back to Las Brisas. We also got some bad health news about TJ's dad. His cancer has returned and he won't be with us much longer. So neither one of us felt like celebrating much.
On day 2 we decided we didn't want to use up all our credit and Steven's patience, and spent two hours patching up the dinghy. We actually half inflated the thing, tied a truck trailer strap around the transom so it wouldn't fall off, fully inflated it and then hoped for the best. We were still sinking, but a lot slower. We counted that as a success. The dinghy landing there was a bit of a nightmare. Unfortunately I neglected to take a picture – it was worth seeing! There were these ratty old steps, very slippery at low tide, where you let out your passengers. Then you go park the dinghy at the dinghy dock. To get over to those steps they had a line on a pulley, which was the most unstable little thing, and you had to shuttle yourself back and forth. The shuttle boat was about a 50 $ little plastic dinghy. I'm surprised our patch job lived through that strain.
That afternoon we decided to get off the boat and away from the boat work and join Steven and Patty and a few of their friends and go to the movies. We saw "The Hobbit" part 2, which included a lot of walking, then something happened, then they walked some more, then something happened, they walked some more, and then the dragon flew off to destroy the village. The End. WTH?
The next day started very early. We had to pick up our line handlers at the famous dinghy dock at 6 am, then we were supposed to meet our adviser in the other anchorage at 6.30 am. One of the line handlers was late, and while Al was waiting for him we slowly started making our way over, thinking if we weren't there on time we might be screwed. The guy didn't show until 6.20 am which didn't start us off on a good note. We shoved the dinghy back into the garage and made a run for it. We were 10 minutes late, but it turned out not to be a problem. Our adviser, Fernando, brought a trainee along. Her name was Liz. Very nice folks.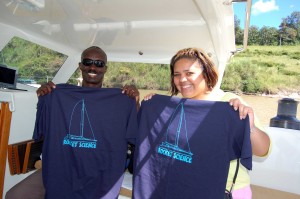 Our line handlers were, believe it or not, Winston and Winston. I'm still not sure if they made that up or if it was the truth.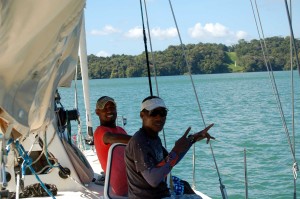 We were supposed to go through the Miraflores locks at 8.36 am, but were delayed until 10 am. Liz let me use the Internet through her phone, so I was able to post updates on Facebook and email them also, and a few people watched us go through. Very cool.
Generally it was a long, boring day, with a little excitement here and there which was mostly brought on by Winston 1 being hungover and Winston 2 not understanding what we were telling him, in either English or Spanish. The Winstons turned out to be a disappointment. We got through the Gatun locks around 5 pm, then our advisers were picked up and we headed to the Shelter Bay Marina for some R & R. That night we went out for dinner and had humungous bowls of chicken soup, a panamanian specialty called Sanchocho.
The next day we got very lucky and found a used dinghy for sale for only 500 $. It needs to be re-glued, but overall it's several steps up from our old one and will serve us well for a few years. We left around 11 am, thinking this very last leg to Bocas del Toro would take us about 20 hours. However, we didn't count on our constant companion, the current. We had a very nice sail all day and for most of the night, sadly slowed down by about 2 knots. Around 4 am we had to turn on the motor, as the wind shifted to a head wind, and it was a bit sloppy for a while. We finally got to the Red Frog Marina in the late afternoon, scored a piece of prime real estate and aren't going anywhere for a while now!